Everything at a glance
Restaurants, Bar & Lounge
As part of your half or full board, select from various culinary delights at one of our friendly St. Wolfgang restaurants.
In the morning,
feast on a delicious breakfast buffet from 07:00 until 10:00 am (or until 10:30 am on weekends and public holidays), leaving nothing to be desired.
For lunch,
we offer you a varied lunch buffet from noon until 02:00 pm which includes delicious salads, regional and international main dishes as well as many desserts to choose from.
In the evening,
select from our extensive menu including a four course meal that changes daily as well as house specialties. In addition, we offer a salad buffet and an international assortment of cheeses for your enjoyment. On Wednesdays, we also feature hor douvres or a dessert buffet including delicacies from around the world. Every Saturday, we offer our popular themed buffets which range from Bavarian, Austrian and Mediterranean cuisines. The half board restaurant is open from 06:00 until 09:30 in the evening for your convenience. We kindly request your presence no later than 08:30 pm.
À-la-carte-Restaurant "Montgolfier"
Our à la carte restaurant "Montgolfier" is both elegant and cosy at the same time. Let us spoil you with charm and heart! Enjoy international flavours of food and wine in an atmosphere that invites you to linger. You are welcome to book the "Montgolfier" for special occasions (of up to 50 people).
For advanced reservations, please ask for our restaurant manager:
Tel.: +49 8532 980 0 or +49 8532 980 620
Business hours:
Daily from 06:30 until 11:00 pm (except for private events)
The kitchen is open until 09:30 pm - Open seven days a week
Unfortunately our à la carte restaurant "Montgolfier" is closed until further notice.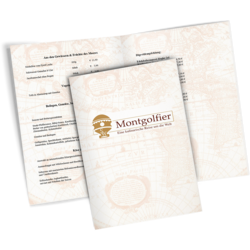 St. Wolfgang Lounge & Bar
Guests can relax in our lobby und hotel bar or in true Tuscan style on our terrace right by the pool. Read a good book and enjoy the delicious German tradition of coffee and cake. Our kitchen brigade is at your service to offer delicious indulgencies from our snack menu all day long.
From A for Averna to G for Griesbecka through to Z for Zombi, our bartenders know how to make the finest specialty cocktails. If you'd rather, enjoy a glass of your favourite red wine next to our nearly real fireplace. Shake a leg and forget about your everyday life with musical performances from swing to cha-cha.
We look forward to your visit - because meeting your needs is our goal. Business hours:
Business hours:
Tuesday to Saturday from 08:00 until 00:00 pm.