Medical-Beauty
Plastic and Aesthetic Medicine
Registration & Information:
For increased attractiveness, wellbeing and a positive attitude toward life
Your St. Wolfgang Medical Beauty Expert for plastic and aesthetic surgery, Dr Frank Rösken, MD, originally came from Die Ästheten in Munich.
What is Medical Beauty?
Previously, there were hardly any alternatives to cosmetic surgery. Over the last ten years, however, opportunities in the field of nonsurgical treatment have become increasingly diverse. Medical Beauty bridges the gap between medicine and cosmetics. The latest medical techniques and professional methods are bundled in a holistic approach to perform lasting body contouring and efficient skin rejuvenation in a gentle way without the use of a scalpel.
The beginning of each treatment always includes an intensive consultation and a beauty check.
Read the testimonials about procedures that other patients have had.
Information for international guests/patients can be found here.
As sponsors of the myBody® quality seal, Dr Rösken and Klinik St. Wolfgang are working together according to strict required quality standards which span the fields of medicine, services and information.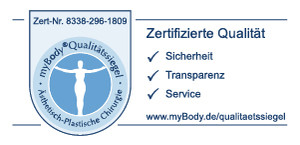 For more information about the full range of services and about the aesthetes in general, please visit
www.aestheten.de