Rediscover quality of life
Urology
The Urology Department offers comprehensive field-specific diagnostics.
The treatment concepts, especially as they pertain to the postoperative phase and in the field of Urologic Oncology, are based on international standards.
We guarantee continuous professional urologic patient care.
This includes intensive treatment of urinary incontinence, individual counselling of sexual matters and treatment of erectile dysfunction. Primary and secondary prevention including nutritional counselling represent the core of our care concept which is tailored to individual patient preferences and needs.
Registration & Information
Julia Frankenberger: Tel. +49 8532 980 104 / Fax +49 8532 980 688 / sekretariat-klinik.badgriesbach@asklepios.com
Our Specialties & Disorders
urinary incontinence in men and women
counselling of sexual matters
couples counselling
diagnosis and treatment of erectile dysfunction
family planning and sterilisation
investigation of hormonal disorders
prostate treatment - conventional and alternative
urological tumour treatments
For urological conditions and specific technical issues, we offer the services and consultation of fully trained and experienced physicians.
Our specialists' expertise in combination with our wide range of conventional treatment methods allow us to respond to patients' preferences and needs depending on results and personal requirements.
Our range of services
after urological surgery
Follow Up Treatment
Scientific studies have positively shown that inpatient follow up treatment always has a positive impact on patient health.
Our targeted posttreatment allows immediate supervised inpatient care which accounts for all necessary treatment measures.
The structure of holistic medicine enables fast improvement and lasting patient stabilisation. Through individualised care, wellbeing remains our top our priority and influences the healing process.
Thanks to our unique concept, it is possible for the patient to largely return to working life immediately after a short but intensive postoperative hospital stay in our clinic. At any rate, patients are in a suitable condition to proceed with outpatient follow up care.
physiotherapy


pelvic floor exercises


urologic oncology care


psychological care


ostomy care


counselling of sexual matters


dietary advice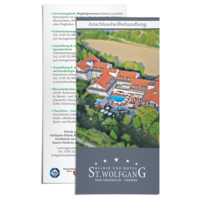 urodynamic examinations
biofeedback techniques and physiotherapy
electrical stimulation
TVT (tension free vaginal tape)
suspension sculptures
implants
TUR (transurethral resection - 'planing')
TUVP (transurethral vaporisation of the prostate)
TUI (transurethral incision of the prostate)
TUNA (transurethral needle ablation of the prostate) laser therapy of the prostate stent implantation (wall stents)
endourological tumour treatment (e.g. urethral, bladder and ureteric tumours including photodynamic examinations)
brachytherapy for prostate cancer
urologic oncology treatment (chemotherapy and immune chemotherapy)